DIY SHOECARE AT HOME !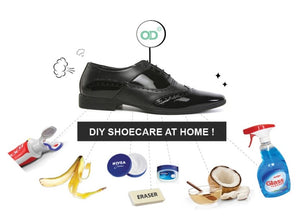 Gone are the days when we were all worried and even the smallest stain would give us major panic attack. Well, not anymore. Like always, we have got your back. Here are 6 simple DIY shoe care tricks to keep your shoes clean with literally using stuff lying around your house. How cool is that? Check out yourself!
DISCLAIMER: Please try the follwing methods in small patches or on an old shoe. The brand doesn't stand responsible incase of any mishaps.

1. Toothpaste - Forever buddy !
Perfect for Canvas shoes. Just a little squeeze of toothpaste on a cloth to help polish away any scuffs or marks. Wipe off any residue with a damp cloth afterwards. Dirty canvas or soles, it works wonders for both. For PVC, rubber soles, Colgate can act as a mild cleaner when mixed with 50% water.

2. Ezee ? Easy.
Washing agent ezee to clean the canvas shoes. Helps in softening the shoes. Disclaimer - Start with trying a small patch first. Then go ahead if successful. Stop if you see unlikely results such as discoloration, etc.


3. Nail polish remover - This might need a little convincing :P
Cant wipe away any scuffs or marks on your Patent leather or Soft Leather Brogues? No match for nail polish remover! Put a little onto a cotton ball or pad and wipe away. Remember not to use too much as harsh chemical might dis-color the shoe! Note: Use non-alcoholic ones for canvas shoes.

4. Nivea basic cream -
All creams that are white or colorless can be used for cleaning and nourishing the shoe.
5. Vaseline - Duh?!
Perfect way to protect your leather shoes, after they're harsh nail polish treatment is with a bit of Vaseline/ Petroleum Jelly. Simply put a pea size or so onto a cloth and rub into the shoe. Use a clean, damp cloth to wipe away any excess goo after. Vaseline can be good with waxy/oily leather. Petroleum Jelly is a good nourishment for these shoes. It gives shoes a shine.

6. Window cleaner - Pssssss! Psssssss!
Surprise, Surprise! Not just for windows, it is perfect for quickly cleaning your leather soles of any wreck or marks. Spray onto a clean cloth and wipe down shoes. Additional benefit, it doesn't just get rid of marks but makes shoes shine too! Note: The liquid must be Chlorine-free.  
7. Rubber eraser - Suede shoes
Dive into any stationary draw or pencil case (or just steal one from the youngest in the house) for your next piece of cleaning equipment. Rubber erasers are just the ticket for lightly rubbing away any dirt or marks on your suede shoes. If you have a nailbrush lying around as well, this is great for those extra tough dirt marks. Tip: If possible, try and use PVC free lighter colored erasers for light colored shoes and darker erasers for darker colored shoes. Although it's better to use a white color eraser, advisable since it leaves no smudge marks.

8. Coconut Oil - Hello old friend!
We bet nothing worse than reaching for your shoes & rushing out the door to find they're all dull and faded. Time for a quick polish…without any polish! Dab a bit of the colorless coconut oil onto a clean dry cloth and rub smoothly onto your shoes to give them a kick of moisture & shine.

9. Banana Peel - Really?!
Another reason to eat 1 of your 5 a day. When you have your next banana, don't just throw away the skin, no no… Use the inside of the banana skin to buff up any leather shoes than need a little smooth & shine around the house! As simple as it sounds. Note: Advised to try out on an old shoe first. Proceed further if you are happy with the results.
10. Water and Cloth - Our basics.
Water used for any purpose at any given time, should be RO water. Not tap water since tap water has oxides, chlorine's & carbonates in it. Where as, a cotton cloth/ vest cloth for mainly Suede or any kind of shoes is the gentlest. You can damp cotton cloth then you can dry it gently and leave it to dry under a fan or natural air.

Well, there you have it. A few handy tips on how to keep your shoes in tip top condition using only what you can scavenge around the house! Perfect for those last minute emergencies. Try out and share with us if you got any age old simple remedy for cleaner shoes and we shall publish them with credits in a sequel to this blog! Take care!