OD SHOE CARE KIT - Your timeless Best friend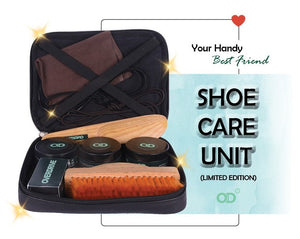 When it comes to classy looks, your shoes say as much about you as your clothes, and nothing is more off-putting than dirty, worn-out shoes, especially when their quality is top-notch, but you have zero time to take care of them. From leather boots to suede Oxfords, keep all your handmade leather shoes looking sparkling clean and soft using the limited edition Overdrive Shoe care kit. The kit comes with 8 top-of-the-line, premium shoe care accessories that work wonders for all kinds of shoes and make your life hassle-free.
Look sharp & confident wherever you go. Overdrive shoe care travel kit is lightweight, portable, and comes with a convenient, elegant travel case. This little best friend of your's ensures to give you a hassle-free life, show stopper grooming to your shoes, perfectly clean all day long.