STORING SHOES EFFORTLESSLY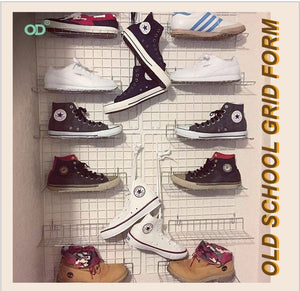 It's easy for the whole house to become one giant shoe storage space. Walk in the door and there are your running shoes; pass the kitchen and you'll spot your favorite slippers; head into your bedroom and oh, there are those brogues you wore to dinner last night. Unless you're one of those lucky people with a walk-in closet (we're deeply jealous), there just isn't enough room to house your full collection out of sight. Incorporate storage that frees up that precious closet floor space...you know, for more shoes. We found the best shoe storage ideas that manage to be functional and not hideous. Give these shoe storage hacks a try to organize your collection once and for all.

Go for a Grid
A two-by-four-foot metal grid panel, against the wall, could be used to hang heeled shoes. The best part is its minimalist geometric design, the display somehow looks chic.