Know Your Shoes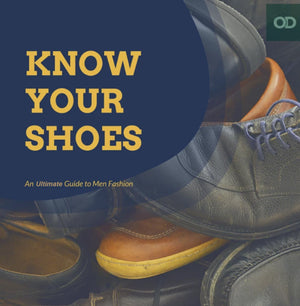 With the myriad variety of shoes out there, it sometimes gets confusing to understand which shoe is what and the differences between them. So, in this article we take you through a tour of the different basic shoes which are in trend:   
The Oxford/'Balmoral Dress Shoe
Every man should possess at least one pair of these most popular types of dress shoes. They stand out by their round toes, a cap, and closed lacing system.
WEAR IT WITH: Dark Jeans, Dress Pants or a Suit. Despite the name, dress shoes are incredibly versatile and can be worn for a 'Dressed-up casual' look with just about anything. 
WHERE TO WEAR IT: Cocktail Parties, Opera, First Date.  
The Brogue
Technically, 'broguing refers to small intricate dot punctured designs in the seams and toe cap of a shoe, while a 'wingtip' is characterized by the W that forms at the tip of the shoe and mostly coming with a brogued cap, these are the perfect footwear for creating a style statement for a casual evening.
WEAR IT WITH: Dress pants, Dark Jeans and Dark Suits.
WHEN TO WEAR IT: Brogues aren't as formal as Classic Dress shoes but depict Personality and Flair. They are summers answer to a Dress Shoe making them inherently casual and appropriate.
The Derby/Gibson/Blucher
This shoe is very similar to the oxfords except for its open lacing system which prevents dandy sartorialists from putting it on very formal occasions. However, they go amazingly well with blazers.
WEAR IT WITH: Suit, Shirt and Tie, Wool Trousers, Jeans, Chinos.
WHERE TO WEAR IT: Office, Restaurant, Bar. This classic and sleek footwear can suit a variety of occasions.
Boots
If you live in a place where you see rain or snow often, then boots are the perfect investment. Not only are these Shoes Practical and Comfortable, but they're also versatile and stylish.  They can be calf lengthed or longer. They can be laced or have a zip. Heel Height can vary. There are different kinds of boots available, e.g. Chelsea boots, Jodhpur boots or the Chukka boots.
WEAR IT WITH: Jeans, T-shirt, Roll Neck Sweater and a Jacket, Button-up shirt with Trousers.
WHERE TO WEAR IT: Weekend Outings, Night Out at the Bar, Office.
Loafer
A Loafer is a Low cut, Slip-on, Laceless Shoe. These casual dress shoes that can be worn with the business attire. Its a slightly dressed up alternative to Boat Shoe, giving a more refined air thereby making it perfect for the hotter months. However, we recommend choosing a Brogue or Classic Oxford for formal occasions. They can be of many types example, Penny Loafer, Tassel Loafer, Double Monk strap, Monk Strap, Saddle Penny Loafer
WEAR IT WITH: Suit, Dress Pants or Dark Jeans, Matches well with a Plain Knit Cardigan.
WHEN TO WEAR IT: Loafers have a casual-yet-formal appeal and can be worn anywhere.
Boat Shoes
The quintessential warm weather shoe is a staple for a reason. It perfectly encapsulates laidback summer casual while still looking refined. The modern boat shoe has its roots in the 1930s as a solution to a severe lack of practical footwear for boating. Their inventor found inspiration in his dog's ability to run along ice without slipping. Today's boat shoe is more about the style, and given its versatility, should find itself in every man's wardrobe before summer.
WEAR IT WITH: T-shirts, Shorts. Avoid wearing them with Tux or Socks.Rolled up Trousers,  Chinos
WHEN TO WEAR IT: Semi-Formal Look, Casual evenings, Beach
Sneaker
Athletic Sneakers offer a sportier vibe, which is incredibly popular right now. A perennial classic, wear'em everyday, beat'em to hell, and buy a new pair!
WEAR IT WITH: Jeans, Chinos, Patterened Trousers
WHEN TO WEAR IT: They are the Most Comfortable Shoes in your arsenal and should be treated as such. They can be worn whenever you wish to feel relaxed or as a part of the street styles.