WISDOM MONDAY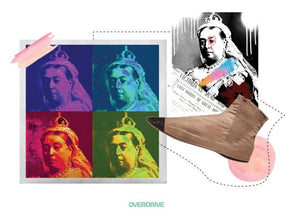 3 LESSER KNOWN FACTS
A HE OR A SHE ?
You're wrong If you think that women invented high heels! Do you think men didn't know how to wear them? Well, they certainly did as they were the ones to start the fashion of high heels.
Knights were the first ones to wear high heels in order to securely keep their feet in the saddle. And horses were a symbol of wealth, so high heels quickly became a symbol of aristocracy and a high social status, rather than a symbol of gender.
The kings of Renaissance Europe liked to wear shoes with especially high heels to show their supremacy, and they could calmly step through puddles as the height of their heels were as high as 30 cm. King Louis XIV of France, also known as Sun King, played an important role in spreading the popularity of high heels. Even today, fashion historians refer to men's high heels as French shoes.
 SHOE SIZE MEASUREMENTS STARTED FROM A BARLEY GRAIN ? REALLY ?
It's historically known that during the Roman civilization, shoe masters used a grain to measure the foot when making sandals. However, this tactic did not spread throughout the world and it's not considered a Roman invention. It was in the early Middle Ages that the British validated such a measurement method. During the reign of King Edward II, a royal order was issued in 1324, which pointed out that a grain of barley is an official measurement standard in footwear production. His order indicated that the length of 3 grains was equal to one inch. This is how the grain measurement system started to spread throughout the world. It is still an official measurement unit in the United Kingdom and Ireland.
 ALL HAIL QWEEN VICTORIA !
The uncomfortable way of putting on shoes with buttons and laces encouraged London footwear master Joseph Sparkes to create footwear with elastic  and cotton. Boots with no buttons, laces or heels were so comfortable that they quickly grew in popularity among men and women of different social classes. Footwear master Joseph Sparkes patented this successful model in 1840 .Joseph sparkes hall's prototype version of the elastic-sided boot was presented to queen Victoria in 1837,the year she ascended to the throne. The elastic sided boots soon became the most popular form of footwear, worn by both men and women.